Apr. 13, 2023
Bucket hats are a popular accessory that can be customized to meet a wide range of needs. Whether you're looking to promote your business or organization, create a unique fashion statement, or simply express your individuality, there are several factors to consider when customizing a bucket hat.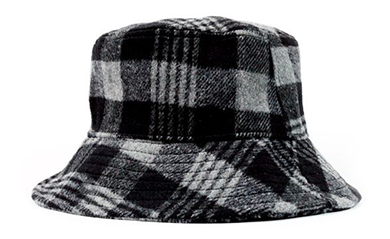 winter bucket hat black and grey wool hat for women & men for sale
Considerations for Customizing Bucket Hats
Material
The first factor to consider when customizing a bucket hat is the material. Bucket hats can be made from a variety of materials, including cotton, denim, nylon, and polyester. Each material has its own unique properties that can affect the look, feel, and durability of the hat. For example, cotton is a soft and comfortable material that is breathable and easy to care for, while nylon and polyester are more durable and water-resistant.
Color
The color of your custom bucket hat is another important factor to consider. You may want to choose a color that matches your brand or organization's logo, or you may want to select a bold or unique color that will help your hat stand out. It's important to keep in mind that certain colors may be more difficult or expensive to produce, so you'll want to check with your supplier to see what options are available.
Design
The design of your custom bucket hat is perhaps the most important factor to consider. You'll want to choose a design that not only looks good, but also effectively communicates your message or brand. Some things to consider when designing your bucket hat include the placement and size of your logo or graphics, the font and color of any text, and any additional design elements such as patterns or images.
Size
The size of your custom bucket hat is also an important consideration. Most bucket hats come in one size fits all, but some may be adjustable to accommodate different head sizes. You'll want to make sure that your hat fits comfortably and securely on your head, without being too tight or too loose.
Brim size and shape
The brim size and shape of your custom bucket hat can also have a significant impact on its overall look and functionality. Some bucket hats have a wide brim that provides more sun protection, while others have a shorter brim that is more fashion-focused. You may also want to consider the shape of the brim, as some hats have a more curved brim while others have a flatter or more straight brim.
Embellishments
Embellishments such as embroidery, patches, or pins can add an extra touch of customization to your bucket hat. These can be used to add additional design elements, showcase your brand or organization, or simply add some personal flair.
Quantity
Finally, you'll want to consider the quantity of bucket hats you need to order. Ordering in bulk can often help you save money, but you'll want to make sure that you're not ordering more hats than you need. You may also want to consider ordering a few extra hats in case of any defects or mistakes during the customization process.
If you want to know more information about customizing bucket hats, please contact us. We will provide professional answers.