Oct. 10, 2023
Corduroy caps have made a stylish resurgence in the world of fashion and personalized accessories. These caps are not only comfortable but also exude a classic, vintage charm. One way to take your corduroy cap to the next level is by adding custom embroidery. Whether you want to promote your brand, make a fashion statement, or give a unique gift, custom embroidered corduroy caps can be an excellent choice. In this comprehensive guide, we'll explore the ins and outs of creating and owning your very own custom embroidered corduroy cap.
1. Selecting the Right Corduroy Cap:
The first step in creating a custom embroidered corduroy cap is to choose the base cap that suits your style and requirements. Corduroy caps come in various colors, styles, and sizes. Some factors to consider include:
- Color: Corduroy caps are available in a wide range of colors, from classic neutrals to vibrant options. Choose a color that complements your brand or personal style.
- Style: Corduroy caps come in various styles, including snapbacks, dad hats, and five-panel caps. The style you choose should align with your desired look.
- Fit: Ensure the cap fits comfortably and suits your head size and shape. Adjustable caps can provide a more universal fit.
2. Designing Your Custom Embroidery:
The design you choose for your custom embroidery is a crucial element of your corduroy cap. Consider the following when creating your design:
- Logo or Artwork: If you're creating a custom corduroy cap for promotional purposes, consider using your company logo or a custom design that represents your brand. For personal use, you can choose a design that reflects your interests, hobbies, or personality.
- Size and Placement: Decide where you want the embroidery to be placed on the cap. Common locations include the front panel, side, or even the back. The size of the embroidery should be appropriate for the chosen location.
- Colors: Select thread colors that complement the base color of the corduroy cap and make your design stand out. Keep in mind that too many colors can be overwhelming, so a limited color palette often works best.
- Font and Text: If your design includes text, choose a font style that suits the overall aesthetic. Make sure the text is legible and well-balanced within the design.
3. Choosing an Embroidery Service:
To bring your custom corduroy cap to life, you'll need to work with a professional embroidery service. Consider the following when selecting a service provider:
- Experience: Choose an embroidery service with a track record of producing high-quality embroidered products. Check their portfolio and read customer reviews.
- Customization Options: Ensure the service can accommodate your specific design and customization needs. They should be able to work with your chosen cap style and provide various thread and embroidery options.
- Minimum Order Requirements: Some embroidery services may have minimum order requirements. Be sure to inquire about this, especially if you only need a small quantity of caps.
- Turnaround Time: Discuss the production and delivery timeframes to ensure your custom corduroy caps will be ready when you need them.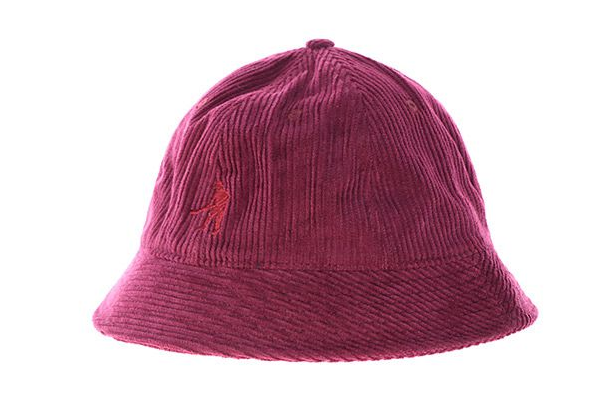 Corduroy Bucket Hat Embroidered Hats With Top Button
4. Preparing Your Design for Embroidery:
Before sending your design to the embroidery service, you'll need to prepare it properly. Here's how:
- Digitize Your Design: Embroidery machines work with digital files. Your design will need to be digitized, which involves converting it into a format that the embroidery machine can read. You can do this using embroidery software or by hiring a digitizing service.
- Format and Size: Ensure your design is in the correct file format, such as DST, EXP, or PES, depending on the machine your chosen embroidery service uses. Provide the design at the appropriate size for your cap.
- Communicate Clearly: When submitting your design, be sure to communicate your specific requirements, including thread colors, placement, and any additional instructions.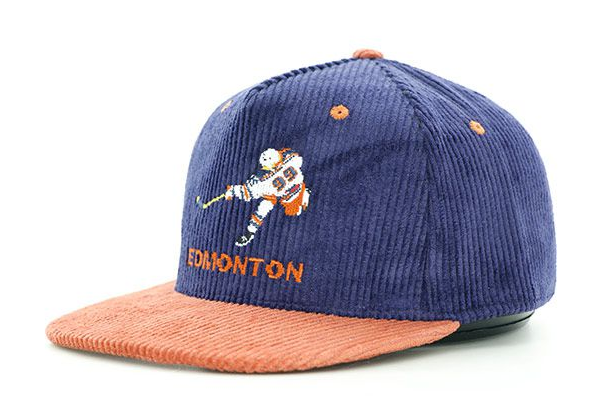 Flat Embroidery 2 Tone Corduroy Snapback Hat Custom Corduroy Snapbacks
5. Production and Quality Control:
Once your design is submitted and all details are confirmed, the production process begins. Here are some key considerations:
- Thread Selection: The embroidery service will select the thread colors based on your design and preferences.
- Machine Embroidery: State-of-the-art embroidery machines will stitch your design onto the corduroy cap. Quality control measures are taken to ensure accurate and neat embroidery.
- Inspection: Before shipping, the caps are inspected for quality and consistency. Any imperfections are addressed during this stage.
6. Receiving and Enjoying Your Caps:
After the production process is complete, your custom embroidered corduroy caps will be shipped to you. Here's what to do once you receive them:
- Inspect for Quality: Check each cap for quality and accuracy. Ensure that the embroidery is as you specified, and there are no defects in the caps themselves.
- Promotion or Personal Use: Depending on your purpose, you can use your custom caps for promotional events, giveaways, team uniforms, personal fashion, or gifts.
- Care and Maintenance: Follow the care instructions provided with the caps to keep them looking great. Corduroy caps may require special cleaning and handling.
7. Brand Promotion and Marketing (For Businesses):
If you're creating custom embroidered corduroy caps for brand promotion, use them effectively to market your business:
- Distribute at Events: Hand out the caps at trade shows, conferences, or promotional events to increase brand visibility.
- Employee Uniforms: Have your team wear the caps as part of their uniforms to create a consistent and professional look.
- Sell as Merchandise: Consider selling the custom caps as branded merchandise to your customers or supporters.
8. Personal Styling (For Individuals):
For individuals using custom embroidered corduroy caps as a fashion statement, here are some styling tips:
- Coordinate with Outfits: Match your cap with outfits that complement the color and style of the cap.
- Casual and Formal: Corduroy caps can be dressed up or down, making them versatile for various occasions.
- Personal Expression: Use your custom cap to express your personality and interests. It's a great conversation starter.
Conclusion
Custom embroidered corduroy caps offer a unique and stylish way to make a statement, promote a brand, or give a personalized gift. By carefully selecting the right cap, design, embroidery service, and following proper care instructions, you can enjoy a high-quality accessory that adds character to your wardrobe. Whether for business or personal use, a custom embroidered corduroy cap can be a valuable addition to your collection of headwear.