In all outdoor activities, wearing this comfortable asian bucket hat can protect your skin from ultraviolet rays and protect your hair and eyes from the sun. It allows you to wear it whatever hiking, fishing, beach, travel, vacation, holiday or streetwear. And it will make the most amazing gift for every special men or girls in your life.
Custom bucket hat Asian features
1. Customizable embroidery: Custom Asian bucket hat can be embroidered with a variety of designs, logos, or text.
2. Durable construction: Bucket hats are made from sturdy materials like cotton or polyester, ensuring they can withstand regular wear and tear.
3. Protective design: The wide brim of a bucket hat provides protection from the sun and rain, making them a popular choice for outdoor activities.
4. Versatile style: Embroidered custom bucket hats have a casual, laid-back look that makes them suitable for a wide range of occasions, from beach trips to festivals.
5. Comfort: Bucket hats Asian are designed to be worn comfortably for long periods of time, with a soft and breathable fabric construction.
6. Variety of colors and patterns: Custom bucket hats can be made in a variety of colors and patterns, ensuring there is a style to suit everyone.
7. Various sizes: Bucket hats Asian can be customized to fit different head sizes.
8. Customizable packaging and labeling: Custom embroidered bucket hats can be packaged and labeled as per the customer's needs.
Specification of this asian bucket hat
Below is a table of this asian bucket hats specification.
Cap type: bucket cap
Bill: wide brim
Gender: mens, womens
Fabric: 100 cotton
Color: black
Size: custom size
Double stitching tape color:

black

Logo technology: print
Sweatband color:

black

Stitching: 7 rows stitchings
Eyelet: 0 eyelets
Top button: none
Feature: asian hat
Manufacture: HX caps factory
No.: SH20200701001
---
Related product to asian bucket hat
---
Your custom bucket hats - design your unique asian hat
You can customized bucket hats by changing the hat fabric, the cap color, the logo technology, the logo pattern etc. For the color, you can choose black and white bucket hat, black bucket hat, royal blue, camo bucket or other multicolor hats. The hat material can come in canvas bucket hats, as well as in polyester bucket hats or simple cotton fabric. The letters on the hat can come in Chinese bucket hat, as well as Japanese bucket hat or Korean bucket hat and so on. Most all major bucket hat manufactures such as New Era, Kangol, Kpop, and many more offer at least one bucket hat style to choose from.

The hat logo technology can come in a custom embroidery bucket hats, as well as in blank bucket hats or printing bucket hats. These below are the logo technology of your asian hats you can change.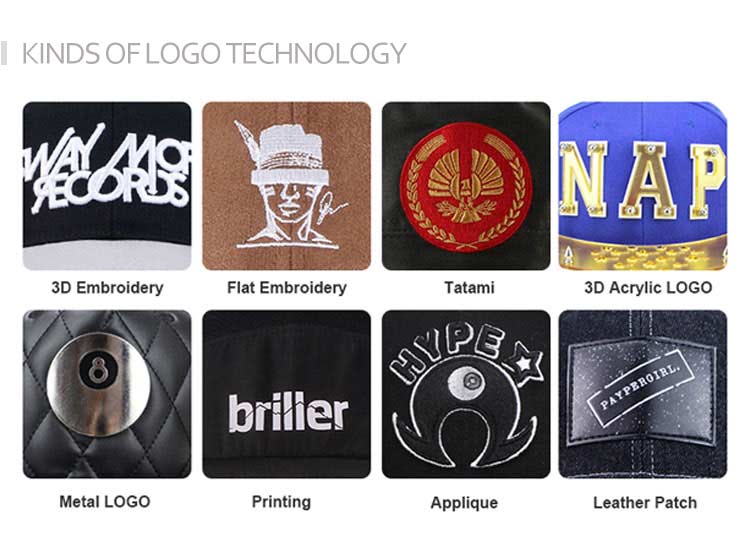 These below are the types of your bucket hat you can change.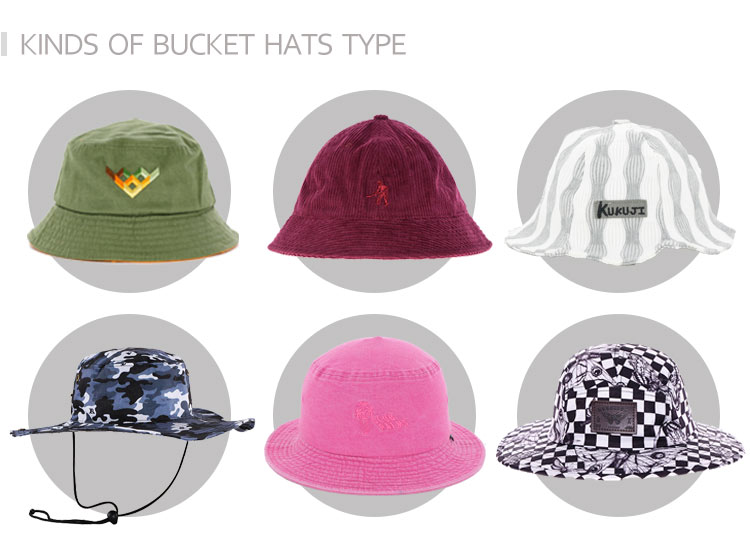 ---
What is the asian bucket hats MOQ?
The MOQ of the bucket hats is 50 pcs.
You can order one to check quality before the bulk. You just need to send us your design by email or we can design a bucket hat for you.
---
What is the asian bucket hats wholesale price?
The asian bucket hats wholesale price is usually based on the logo technology and the quantity of the hat ordered by customers. The more quantity of the camp hats, the simpler the logo technology, the lower unit price of the hat. Therefore, the price of the plain blank bucket cap is cheap.
Usually, the asian bucket hats wholesale price range is 4.5-8.9 usd according to our production experience. You can inquire about the wholesale price by email.
---
How do you wear bucket hat for girls?
Wearing a bucket hat can often add some extra style to your street outfit. Some people may also choose to wear a hat so that they don't have to do their hair. So today let's talk about how to wear a bucket hat.
Black Bucket Hat with Skinny Jeans
To start off this list, I am going to show you a cool all-black outfit. You can simply wear a black sleeveless crop top with black skinny jeans. Complete the outfit with a black bucket hat and sneakers.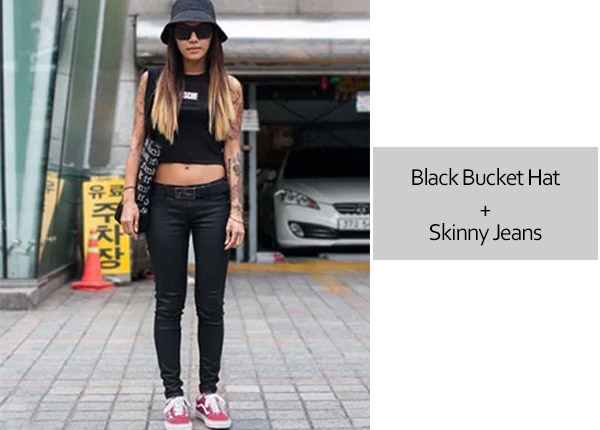 Black Bucket Hat with White Oversized T-shirt
This is a really lovely look that is especially suitable of petite ladies. To achieve this look, you can simply wear a slightly oversized white t shirt and tuck it in a pair of blue denim flory shorts. For the shoes, wear black leather ankle boots to add some extra style. Finally, wear a black bucket hat to add a cute and stylish touch.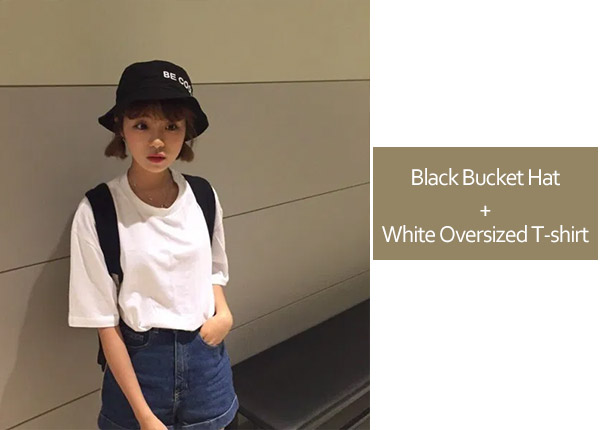 Black Bucket Hat with Crepe Wool Coat
You can also form a ladylike work outfit with a bucket hat. For example, you can wear a pink sweater with a crepe long wool coat and blue skinny jeans. Add a pair of black leather ankle boots and a black suede bucket hat to the mix to add a stylish and feminine touch to the outfit.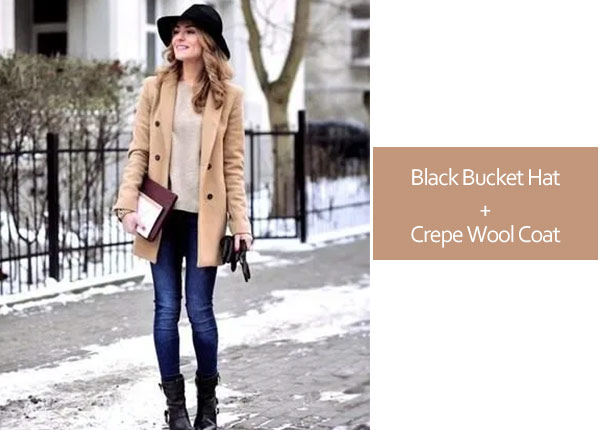 Maybe you can wear a bucket hat like this anime hat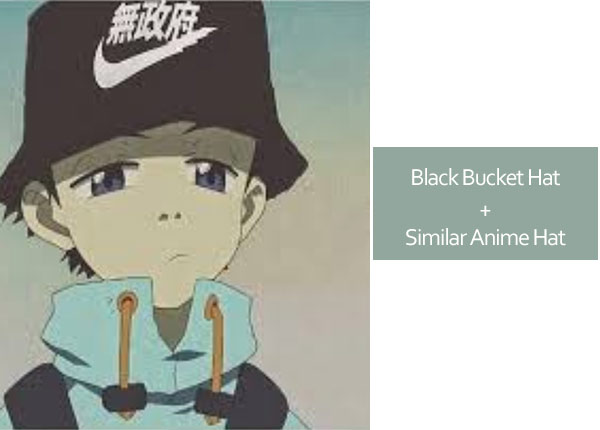 ---
Bucket hat style
Are bucket hats in style 2020? The answer is yes. Bucket hats are still widely produced in 2020 and boonie hats are still issued and worn by armed forces across the globe. In terms of fashion, bucket hats have gained more and more popularity in recent years in line with the revival of eighties and nineties sportswear. They also have a strong presence in rap and streetwear culture. If you want to know more, please click this. Below is the bucket hat style we often make in our factory.
Black bucket hat
Custom black bucket hats are an effective accessory to make you look great during fishing, while the brim can well protect you from the strong sunlight. You would never go wrong matching with the black fashion hat, the sweet and fashionable sense they bring can light up your summer and make it more delightful.
Leather bucket hat
The leather bucket hats are a classic urban and casual style that offers protection from the sun during fishing and other outdoor weather. You can wear leather bucket hat with an athletic mix. Keep it minimal - monochrome outfit with this leather hat.
Bucket hat with string
The weather is rough outside and you need to make sure that you have as much coverage as possible. The classic fashion design includes a reliable neck string to secure the hat on your head. The bucket fishing hats with string pairs well with cargo pants to present an appearance that says you are ready to enjoy a day in the great outdoors.
---
Have other question about asian bucket hats?
Q: Has anyone gotten this hat wet? How does it hold up?

A: After this weekend i can confidently answer this question. this hat holds up great in monsoon conditions and dries off fast seemingly...obviously not gunna keep your head dry but keeps the rain out of your eyes.
Q: What does the letters mean?
A: The words "無政府" on the front means "government". Chinese and Japanese have the same meaning. You can custom your own letter.
If you have other questions about the bucket hats, you could email us. Once receive your question, we will answer you as soon as possible.
---
Customers' reviews about this asian bucket hat
We have won the praise of so many customers because of bucket hats' high quality.

George Loo from Japan: I found a youth sized hat that was customizable! As far as the customization goes - they did a superb job, they can custom a Japanese words! That was cool. They even have a preview setting so you can get an idea as to what the finished product will look like. And I can guarantee you that I will be a returning customer, so yes, I highly recommend to others.
---
bucket hats manufacturer - HX Caps Factory
factory workshop
HX Caps Factory is the bucket caps manufacturer from China, which has dozens of product lines, types of senior technical personnel and kinds of advanced equipment in workshop.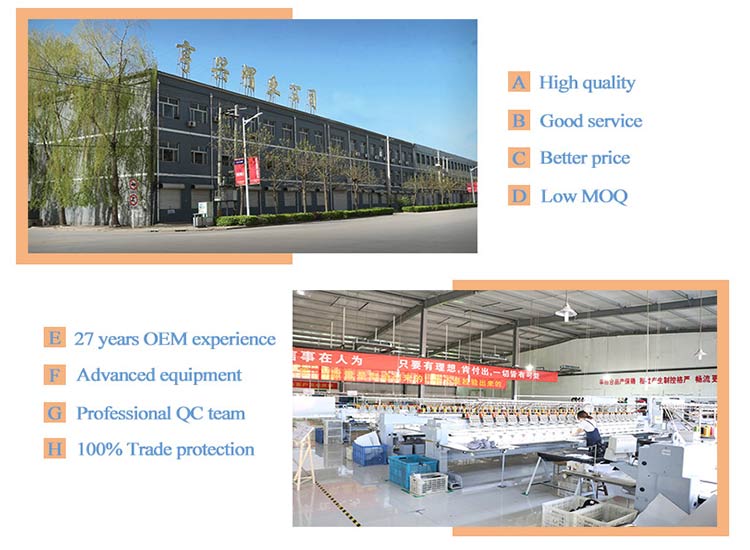 attend cap exhibition
HX Caps Factory attends the cap exhibition every year, such as Canton Fair in Guangzhou China, Asia Apparel Expo in Berlin Germany, Exhibits in Las vegas USA, Exhibition in Australia, etc. We may offer some new styles at the exhibition. And many of our loyal customers come to our booth to communicate about the further cooperation.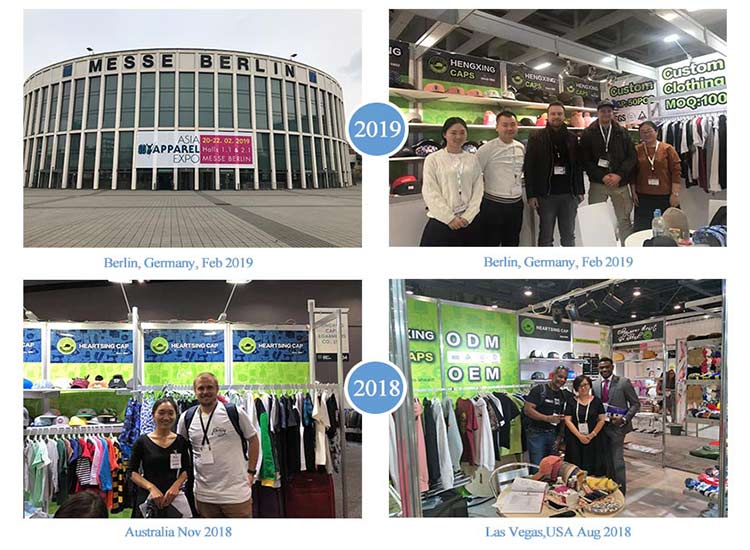 own cap quality certificate
HX Caps Factory have passed ISO 9001, SGS, TUV and EU brand certificates, focus on products quality.